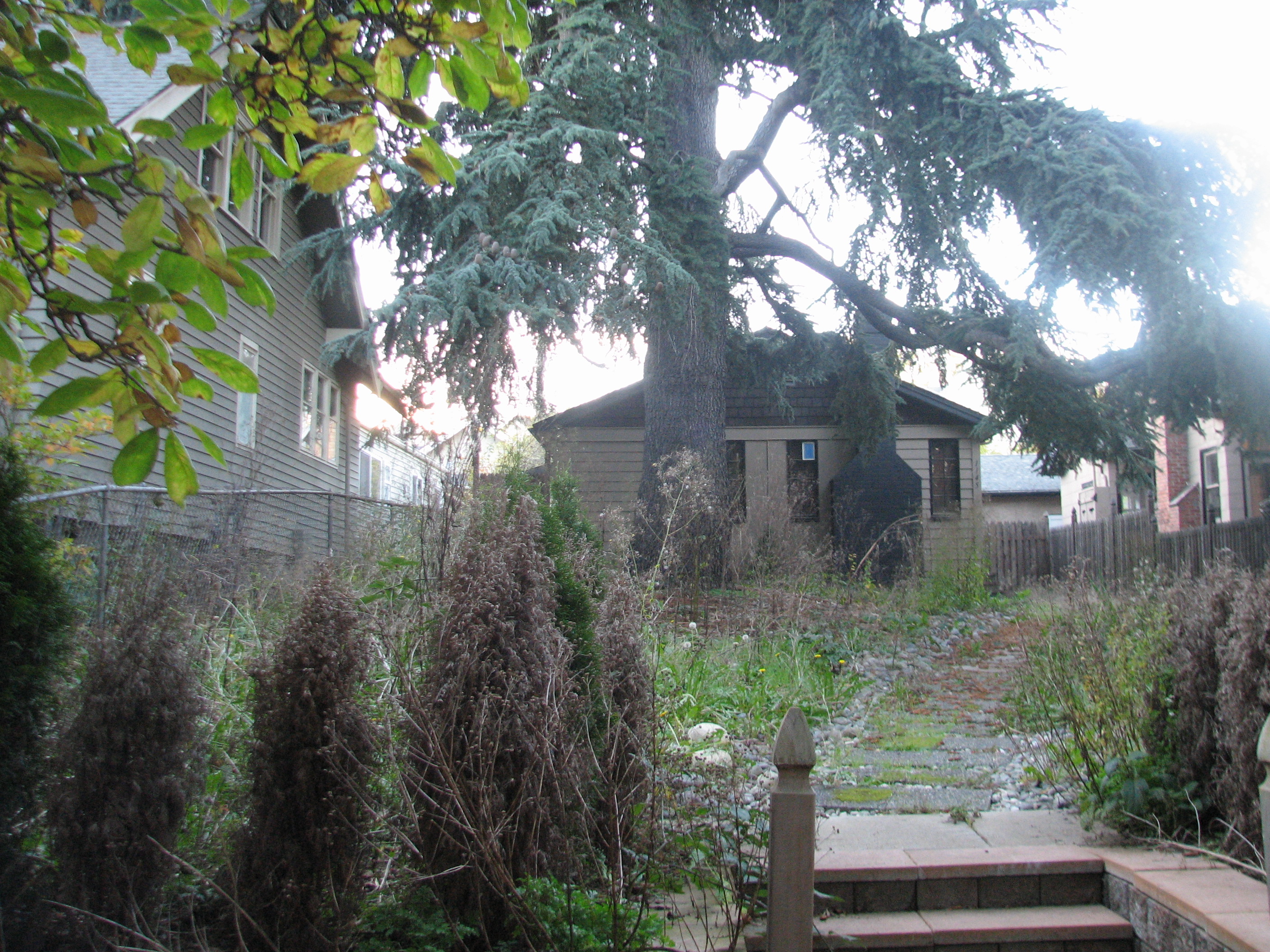 A SMALL VACANT HOUSE OCCUPIED A MUCH MORE VALUABLE LOT IN NORTH CAPITOL HILL. REDEVELOPMENT WAS A MATTER OF DOLLARS AND SENSE.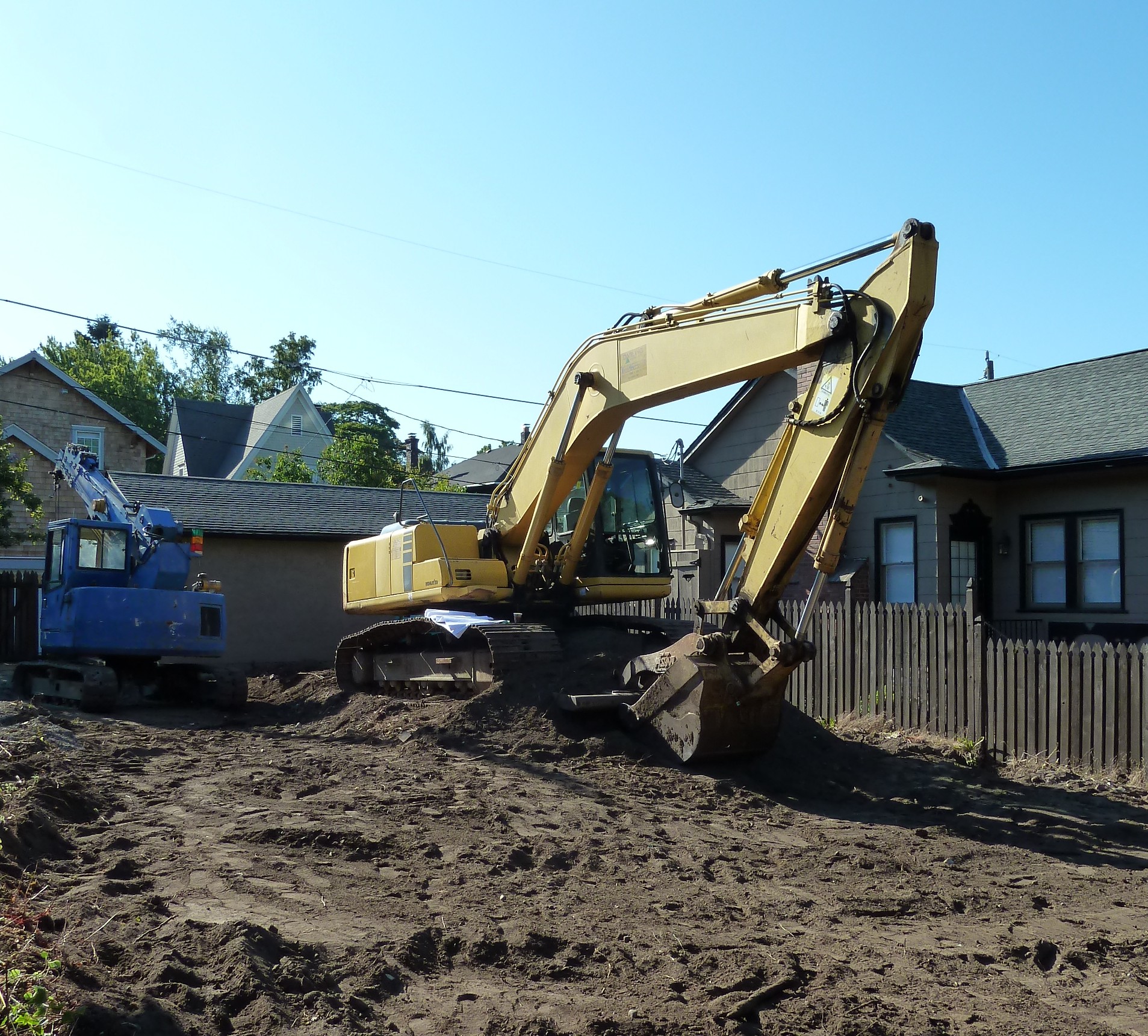 WE UNSUCCESSFULLY TRIED TO FIND A BUYER WHO WOULD MOVE THE EXISTING HOUSE TO A NEW LOCATION. INSTEAD, THE SITE WAS CLEARED TO MAKE ROOM FOR THE NEW HOUSE.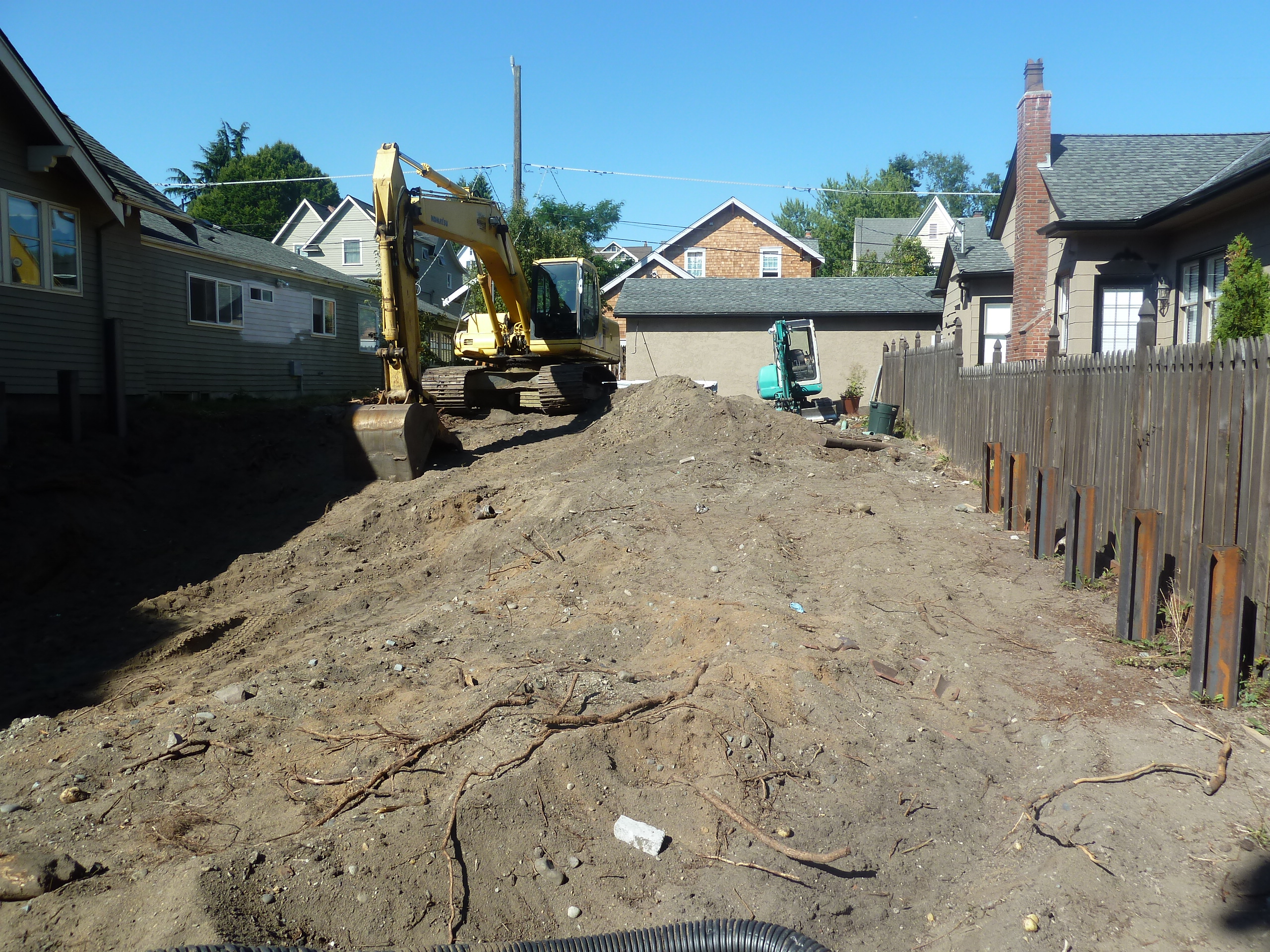 SHORING TO THE LEFT OF US, SHORING TO THE RIGHT, HERE WE ARE STUCK IN MIDDLE AGAIN. IF YOU ARE DIGGING A BASEMENT BETWEEN TWO HOUSES IN SEATTLE, YOUR CLIENT WILL PAY FOR SHORING, STEEL WIDE FLANGES DRIVEN INTO THE EARTH AND LEFT FOR POSTERITY. THE MOST EXPENSIVE STEEL YOU'LL NEVER SEE; PERHAPS AN ATTIC NEXT TIME.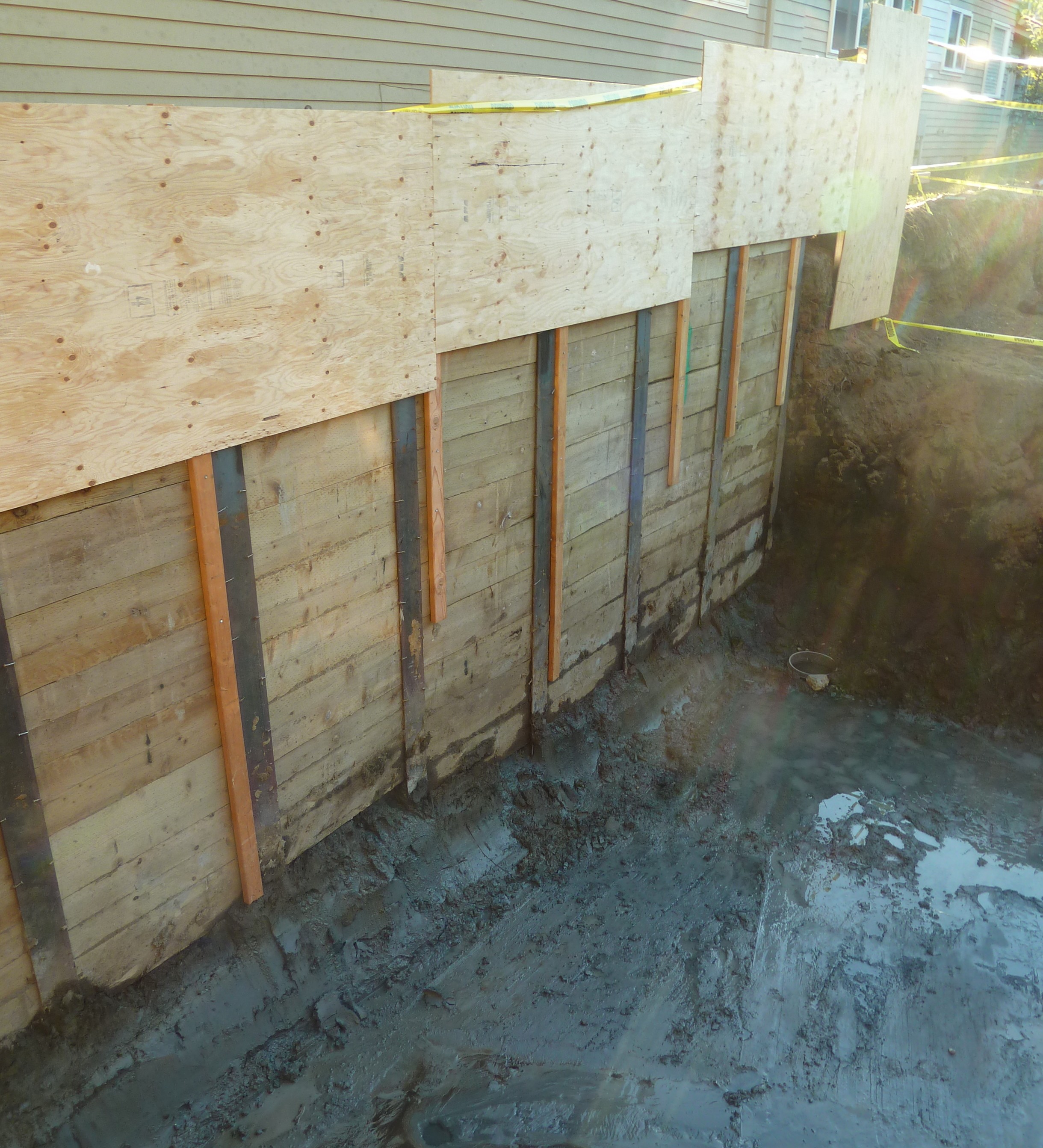 SHORING ALLOWS THE FOUNDATION TO BE EXCAVATED SAFELY; IT ALSO  REVEALS THE LAYER OF CLAY THAT PREVENTS GROUND WATER FROM PERCOLATING DOWN THROUGH THE SOIL. TIME TO DOUBLE CHECK THE BASEMENT WATERPROOFING DETAILS AND SPECIFICATION AND MAKE A QUICK CALL TO A WATERPROOFING CONSULTANT.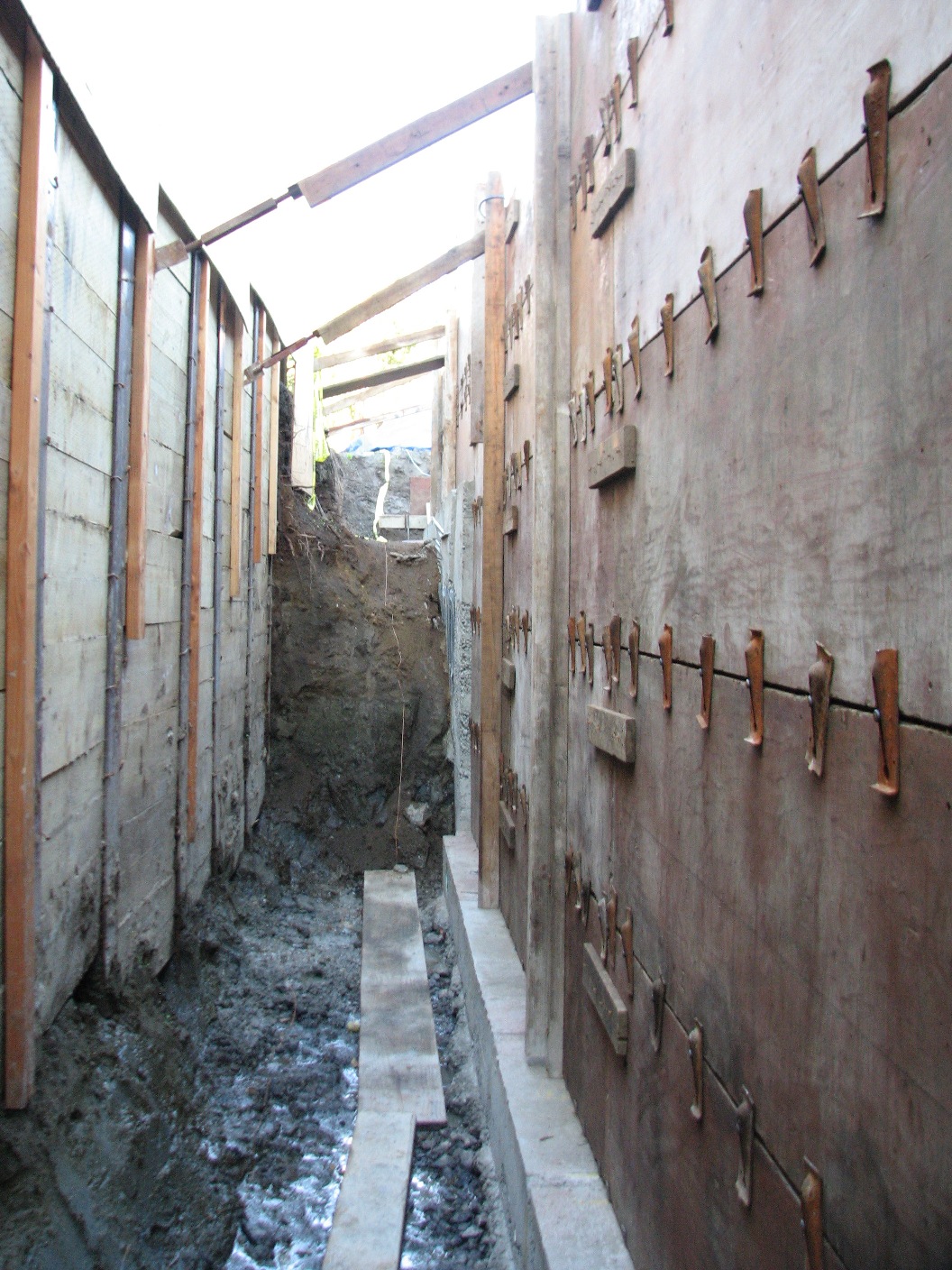 SHORING ON THE LEFT, FOUNDATION FORMWORK ON THE RIGHT, GROUND WATER BELOW.  FOOTING DRAINS WILL BE PLACED HERE TO CARRY GROUNDWATER TO THE STORM SEWER.  SOON THIS WILL ALL BE DIRT.
THOUGH CRITICAL FOR STRUCTURAL INTEGRITY, FOOTINGS GET FORMED EFFICIENTLY AND WITHOUT MUCH FUSS AS THEY RARELY APPEAR IN ARCHITECTURAL PHOTOGRAPHS.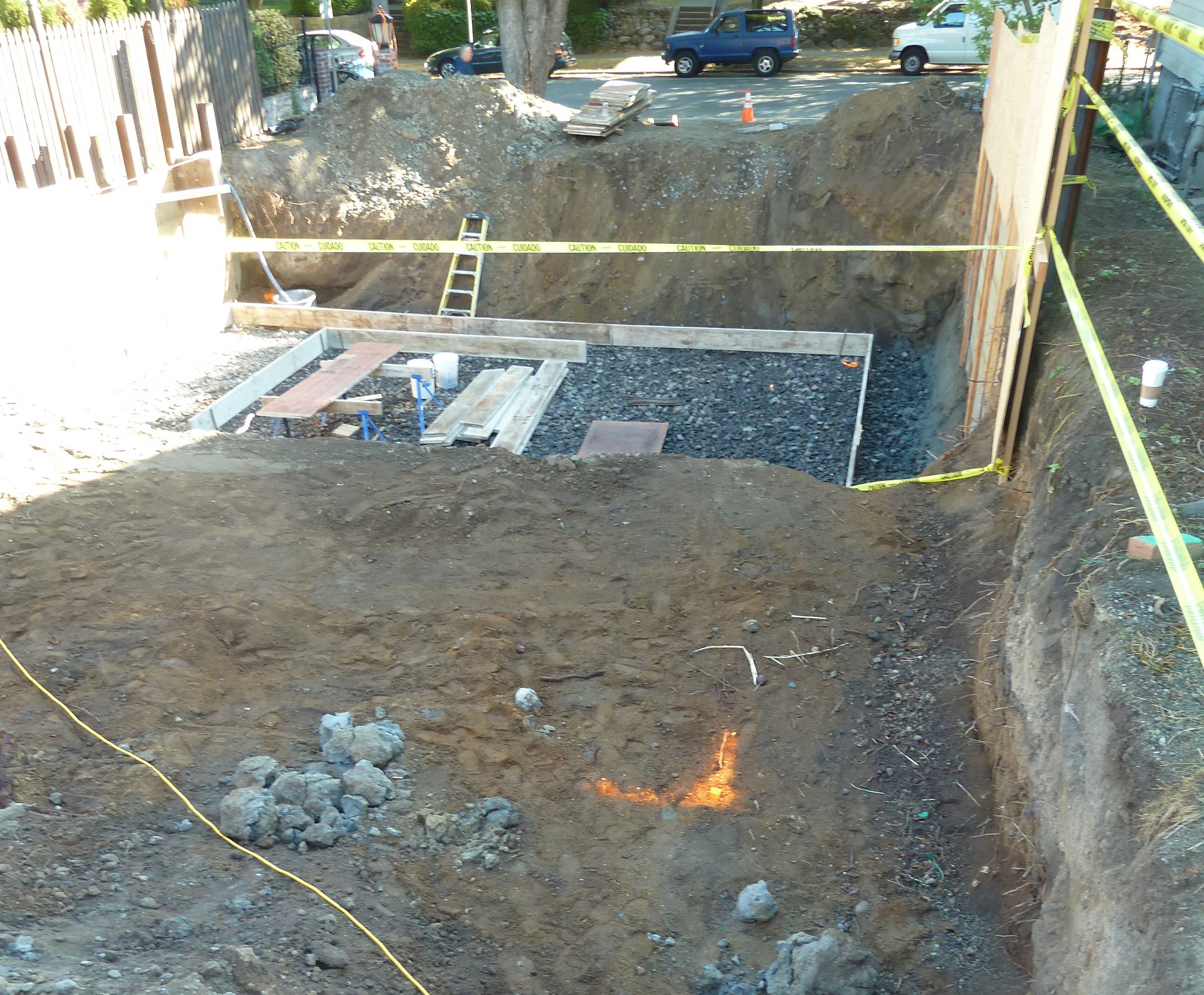 THE ORANGE SPRAY PAINT ON THE GROUND IS THE SW CORNER OF THE HOUSE WITH BASEMENT FOOTINGS BEYOND. RESPONDING TO EXISTING TOPOGRAPHY, THE  HOUSE AND FOUNDATION STEP UP FROM THE STREET TO THE ALLEY, FROM AN EXCAVATED BASEMENT TO A SLAB ON GRADE.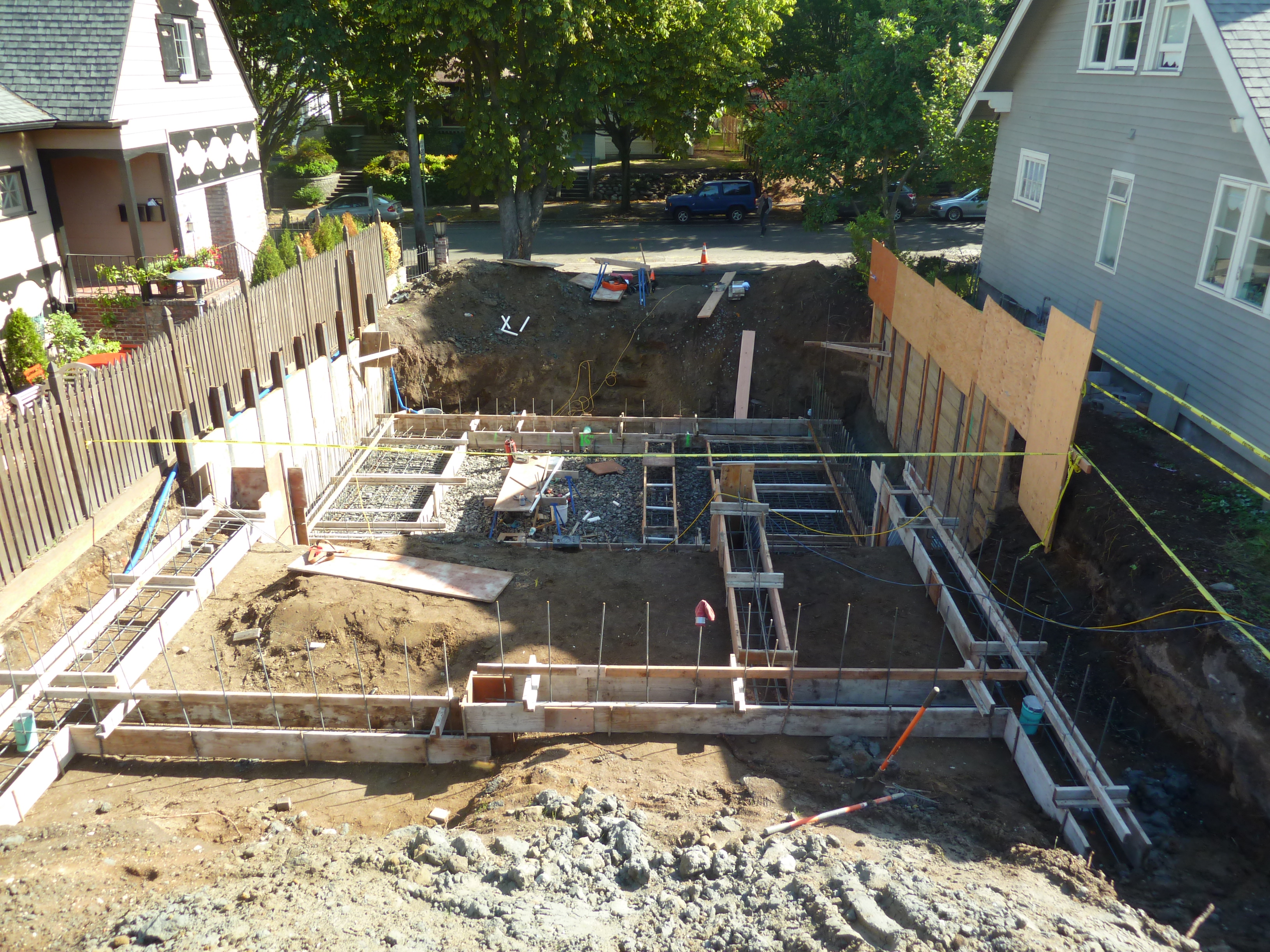 THE BUILDING FOOTPRINT TAKES SHAPE.  THE UPPER FOOTING WILL SUPPORT SHORT STEMWALLS CONTAINING A SLAB-ON-GRADE.  THE VERY LARGE FOOTINGS BELOW WILL SUPPORT THE BASEMENT FOUNDATION WALLS.  PLASTIC PIPE SLEEVES IN THE FOREGROUND CORNERS PROTECT SURVEYOR'S STAKES MARKING THE CORNERS OF THE BUILDING.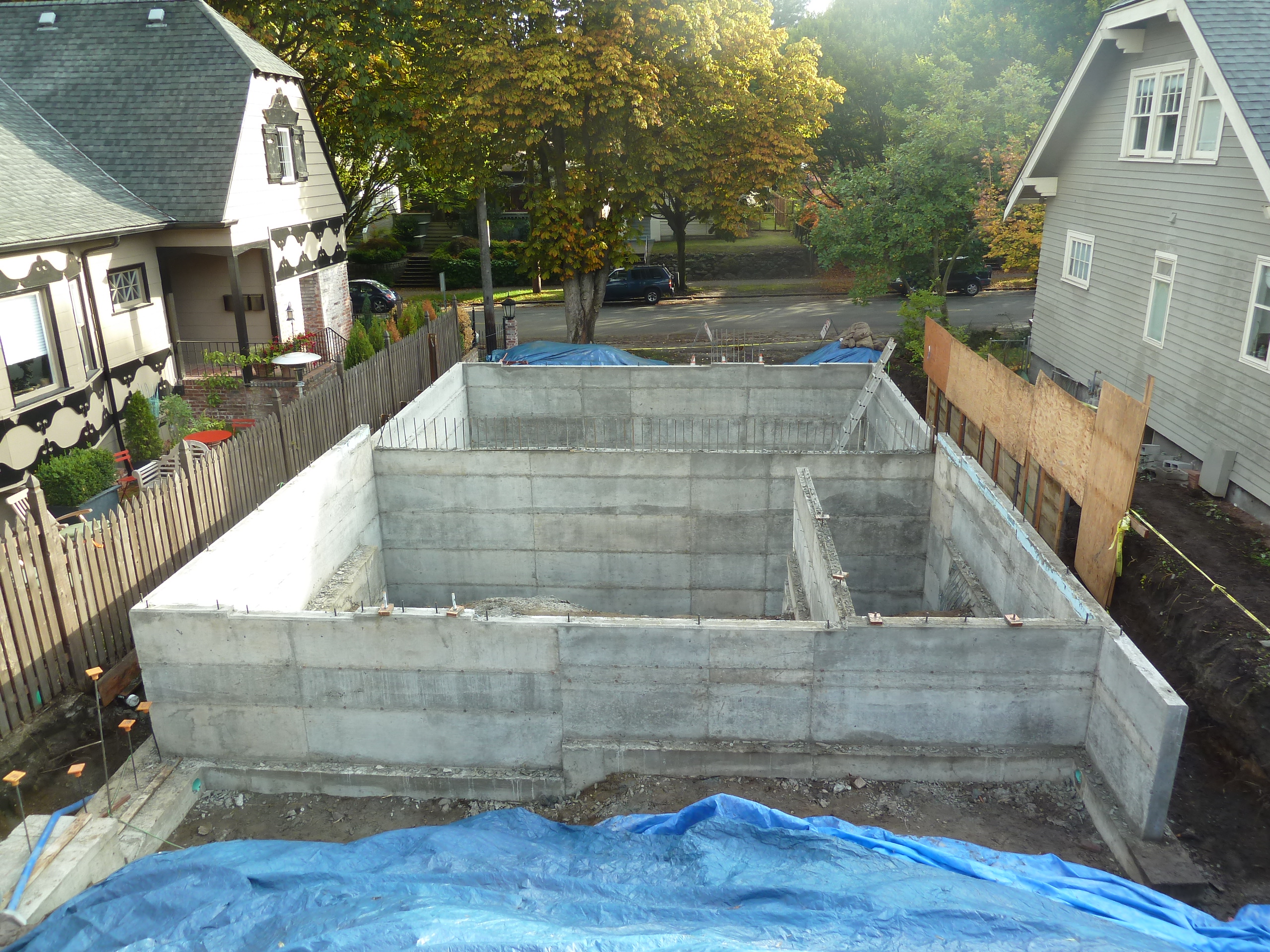 FOUNDATIONS COMPLETED!  THE FOREGROUND VOLUME WILL BE BACKFILLED FOR A SLAB-ON-GRADE.  RECESSES (BUCK-OUTS) IN THE TOP OF THE PERIMETER STEMWALL WILL ACCEPT SILL PANS AND ALLOW DOOR THRESHOLDS TO SIT FLUSH WITH FINISHED FLOOR.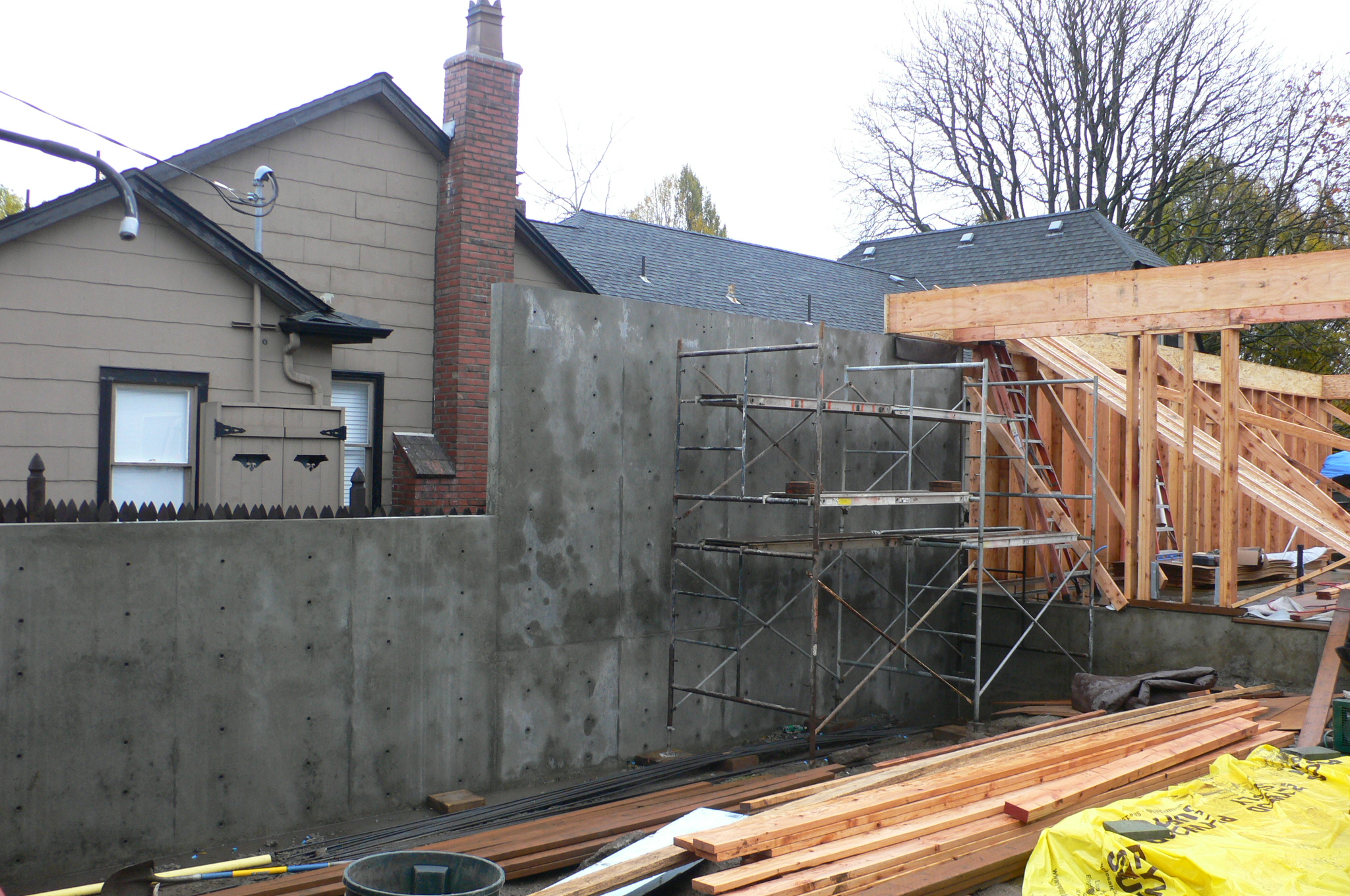 WHEN FLOOR FRAMING SITS ON TOP OF A CONCRETE WALL, YOU HAVE TO POUR THE WALL TO THE CORRECT HEIGHT………………………….see next image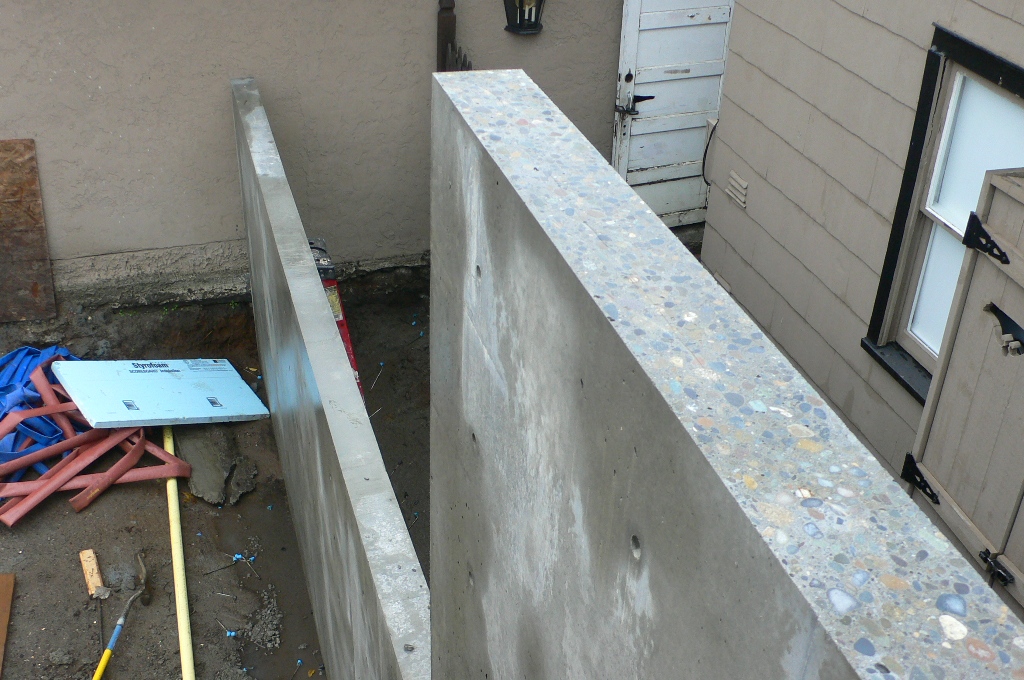 THIS WALL WAS NOT POURED TO THE CORRECT HEIGHT AND HAD TO BE CUT….see next image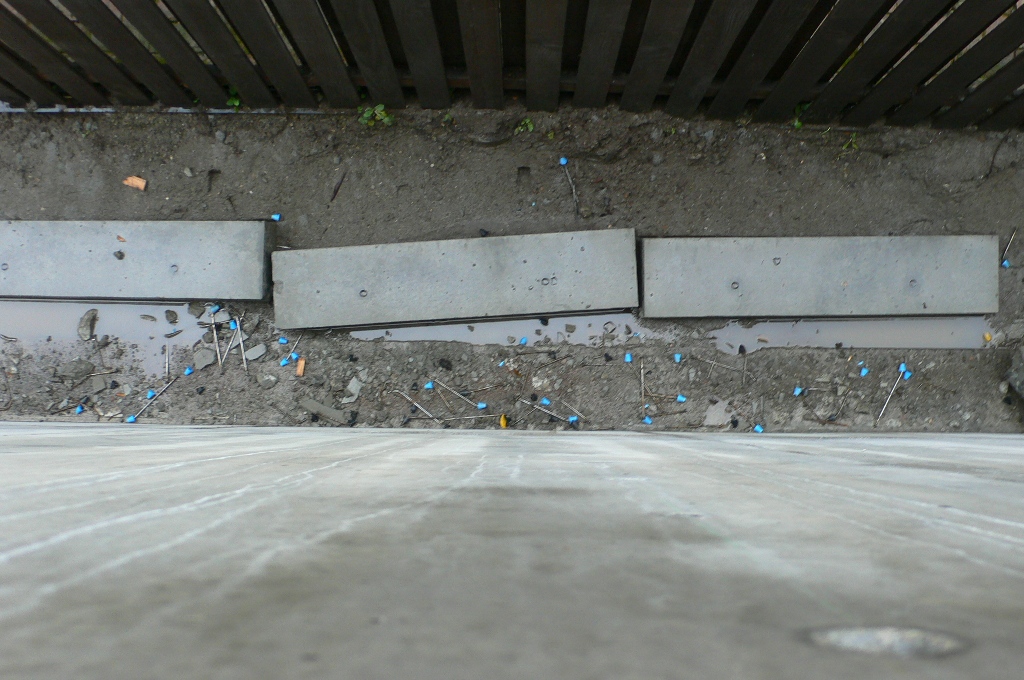 …RESULTING IN SOME CUSTOM PRECAST LANDSCAPING ELEMENTS.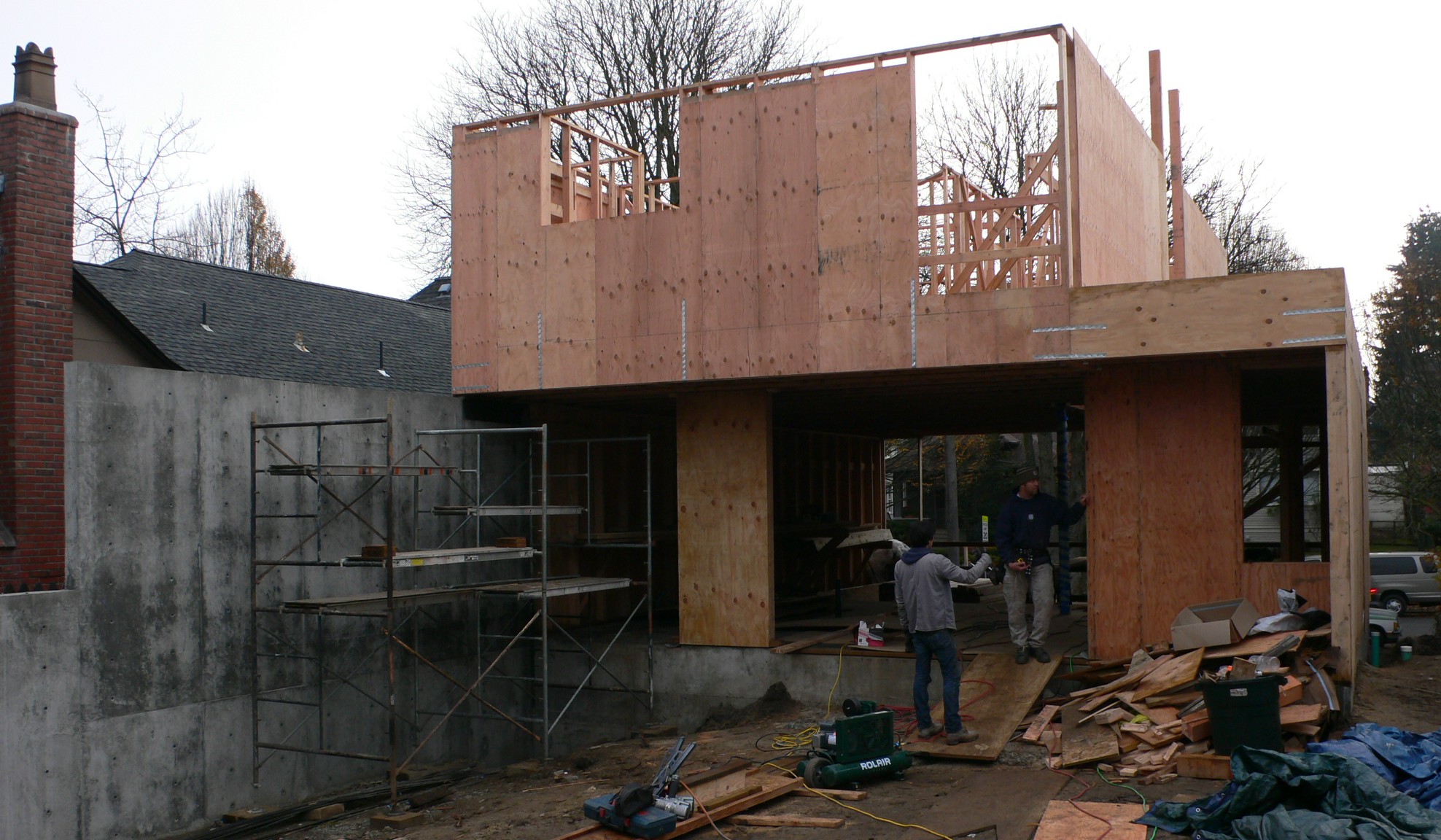 2ND FLOOR WALLS ARE UP.  SHEATHING NAILED OFF TO INTERMEDIATE BLOCKING.  THE NEXT LAYER OF SHEATHING WILL GO ON ONCE THE STRUCTURAL RIM JOIST IS PUT ON TOP OF THE PLATE.  SINGLE TOP PLATE IS PART OF ADVANCED FRAMING STRATEGY.  TOP PLATE AT WINDOWS WILL BE CUT OUT ONCE THE RIM IS IN PLACE, ALLOWING WINDOWS TO GO ALL THE WAY TO THE CEILING.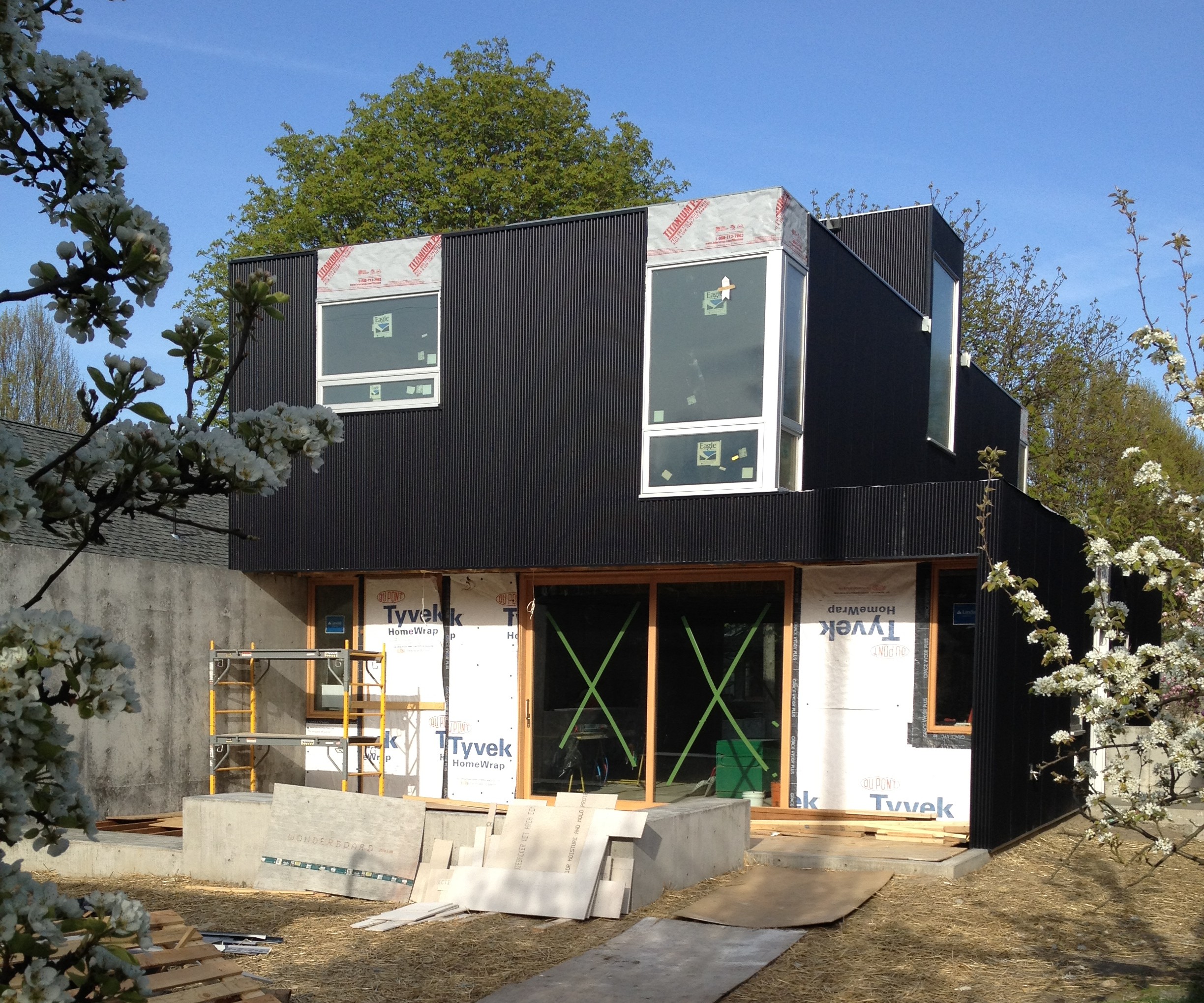 REAR ELEVATION TAKING SHAPE.  GAPS IN THE CORRUGATED METAL SIDING ABOVE WINDOWS WILL ACCEPT BENT ALUMINUM PANELS THAT ACT AS "VISORS".  WINDOWS ABOVE ARE WOOD WITH EXTERIOR ALUMINUM CLADDING BY EAGLE.  WINDOWS BELOW ARE SOLID FIR BY LINDAL.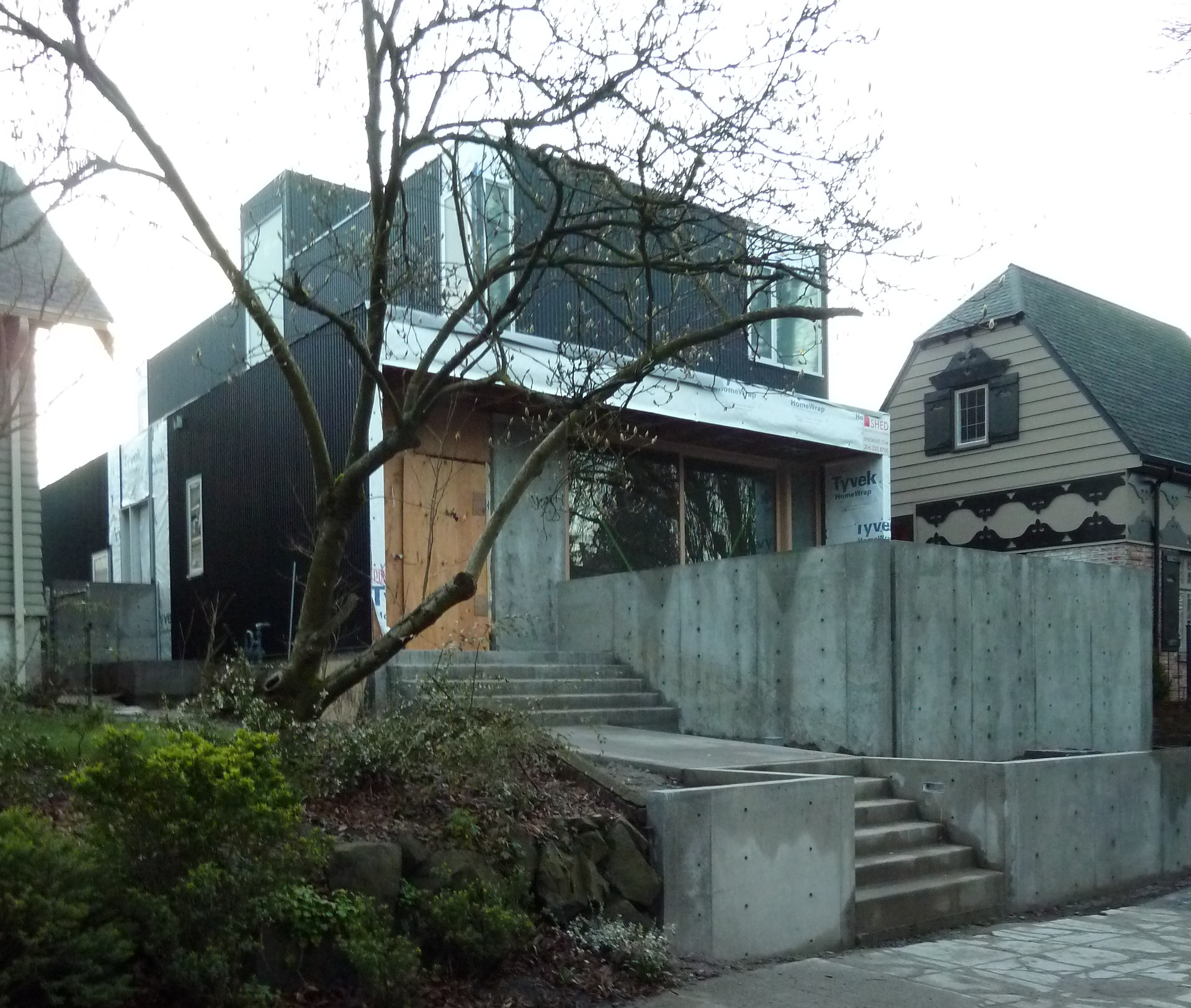 FRONT FACACE ALMOST COMPLETE.
SEE SHED PROJECTS "CAPITAL HILL HOUSE" FOR ADDITIONAL FINISHED PHOTOS.